How To Listen
Life-study of the Bible is a 25-minute radio broadcast composed of excerpts from Witness Lee's spoken ministry that focuses on the enjoyment of the divine life as revealed in the Scriptures. The ministry portions are followed by a discussion of the portion presented, including questions and answers.
Below we offer a list of the various ways to listen to Life-study of the Bible with Witness Lee.
Life-study of the Bible is produced by Living Stream Ministry and is sponsored in the United Kingdom by Amana Trust.

Through the Internet
Anytime
Listen to today's radio programmes.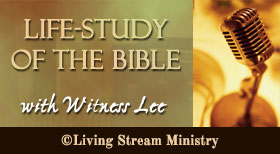 Highlight programmes are selected by Amana Trust.
Listen to programmes from the current broadcast schedules.
Through Premier Christian Radio in the UK
Weekdays at 8pm
Lord's Day at 3pm

Throughout London
Medium Wave 1305, 1332, 1413

Throughout the United Kingdom
DAB (PremierChristian or PremierC)
Freeview 725