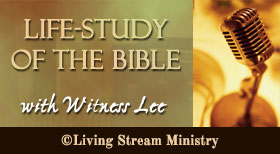 Amana Trust Radio
Welcome to our broadcast
Life-Study of Romans
#26
Transformation in Practicing the Body Life (1)
Scripture Reading: Romans 12:1-21
Read the printed message on ministrybooks.org:
Life-Study of Romans, Message 25
Update Required
To play the media you will need to update your browser to a recent version.
Before You Listen!
We recommend reading the listed verses, when available, before listening. This is helpful in focusing on the particular burden of each broadcast.
The
Recovery Version of the New Testament
, an easy to-understand, accurate translation that includes over 9,000 footnotes, is available to read online by clicking
here
. This is also the version that is used by the speakers of the radio broadcast.
A free copy of this New Testament with footnotes is available if you live in the UK by clicking
here
.
For further contact or information call
01708 380 301
0800 093 9779